Pool Renovation Services
Having a pool is a big responsibility. however, it can be well worth it for enjoyment. As you relax or entertain around it, you must keep it clean and safe for all who enter. Along with maintaining the water, pool equipment sometimes will need repairs or switching to updated new equipment.
All of this can be challenging and does come at a cost, but relying on a highly qualified and reputable pool company is one of the best ways to keep your pool looking its best.
So, as you may have continuously maintained your pool, it may still need some updates. As with everything, styles and needs change. Are you in a dilemma, want to update and do not know where to begin?
We are here to help, but let's first start with some information regarding types of pool renovations.
Types of Pool Renovations
The best renovations for your pool are the ones that will make the pool safer, improve its appearance and will fulfill your new lifestyle needs.
To Meet Lifestyle Needs
Small Children
If you have small children, the need for the pool to have a shallow end can be pretty beneficial. To do this, consider a tanning ledge. Not only is this a great option to put lounge chairs on for the adults, but it is also excellent for the young ones to play safely. It is a shallow end that is generally between nine inches and eighteen inches deep. A tanning ledge is also referred to as a sun shelf.
Teens
If your children are getting older, accommodating their needs is also essential. For example, will they be inviting friends over? Perhaps you have a small pool and want to make it larger. This can work for the growing teens because it will enable them to move around more freely. Add that volleyball net or basketball hoop for a fun water activity they can genuinely enjoy with their friends.
Adults
What adult does not enjoy a hot tub? Consider adding a spa if your existing pool is basic without any additional amenities. It can be designed and built within the pool or at its side. Know that a spillover spa can be a great choice.
Seniors
If the elderly enjoy the pool, ensure you have railings and slip-resistant steps. These features will make swimming safer for them as well as small children.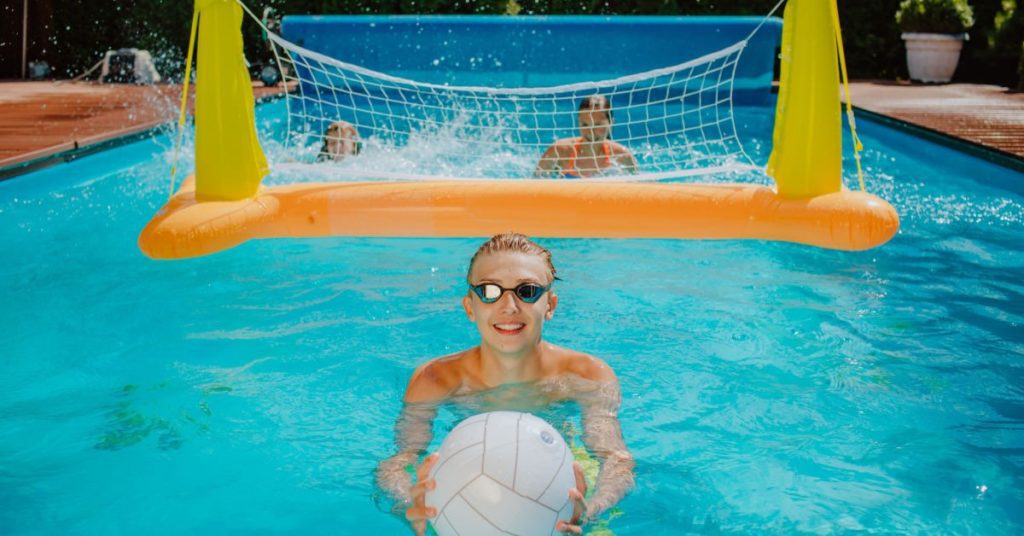 Changes to Shape, Size and Adding Features
As you consider your options, ensure you incorporate eye-catching designs that will coordinate with your pool.
Changing the shape and size and adding water features can do this.
Shape
When considering shape, one example can be transitioning from rounder edges to straight lines or vice versa. As for size, yes, that can be changed as well.
Size
No worries if your children have all moved out and you want to downsize. Have you thought about small pools such as cocktails, spools and plunge pools? These are three small pools that are gaining in popularity. They each offer something different. Cocktail pools are small pools that are generally four feet deep. When adding seating, heaters and jets, they become a spool pool. A plunge pool is also small but typically deeper than the cocktail and spools.
Water Features
When working with a pool builder that offers custom pool renovations, your water feature options are limitless. With so many ideas, you can feel free to contact The Venture Pool Company to learn more and to start designing and creating unique features that will blend beautifully with your new pool renovation.
Who does not enjoy the sounds and ambiance of a fabulous waterfall?
Pool Equipment Upgrades
As we have mentioned a few pool renovations, let us not forget the heart of the pool, its equipment.
The pool pump, filter and other equipment may need to be repaired or replaced over time. Even if you have maintained them well, pool equipment technology consistently changes. The new pool equipment is more energy efficient and can save you a lot of money than old and outdated pool equipment.
Switch From Chlorine To Salt Water
Pool owners are opting to switch from chlorine to salt water. There are many benefits to doing this; such as no more red eyes, skin irritation and leaving the pool with softer feeling skin.
Start Your Pool Renovation Project With The Venture Pool Company
If you are considering a pool renovation, do not be discouraged if it feels overwhelming. When you contact The Venture Pool Company, we assure you that the decisions and the process will go smoothly.
We start with an initial consultation and prepare a detailed proposal, followed by an excellent custom pool renovation design that will include your needs as discussed. We will also present you with a timeline and pricing to fit your budget.
The Venture Pool Company is fully licensed and authorized to work in the state of Texas. We help with any permits that may be needed to avoid delays in the pool renovation project.