Are you looking to build a new pool or remodel an existing one? Have you thought about the different varieties of water features available?
Pleasingly Perfect


Water Features
Are you thinking about water features and having them added to your new pool or existing pool? Of course, we all know pools contain water, but way beyond the coolness and freshness of swimming in a beautiful crystal clear pool, there is much more.
Yes, the sound of trickling water and the beauty of water flowing provides a feeling like no other.
But, did you know that the soothing sounds of water moving trigger a response from our brain that induces a flood of neurochemicals? These neurochemicals increase the blood blow to our heart and brain, inducing relaxation.
Research has found that if you are stressed and feeling anxious, looking at and hearing the sounds of the water will offer a great health benefit toward these feelings.
So, what are you waiting for? Let's talk and discuss the many types of water features that can be a fantastic addition to your swimming pool.
Here are just a few ideas, and when you are ready to learn more, just get in touch with us.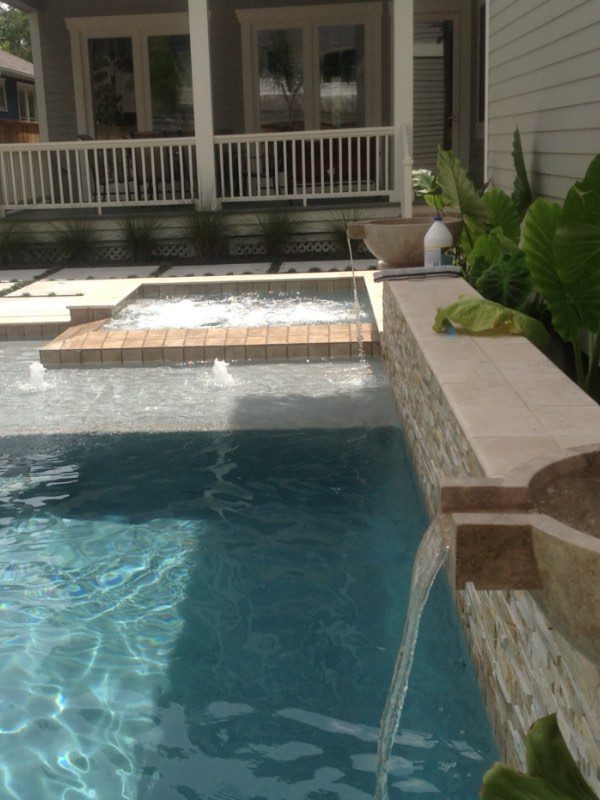 Variety of Water Features &

design Ideas
Water Falls
There are so many ways to create a waterfall. The possibilities are endless.
Waterfalls with Slides
Basically a waterfall with a slide built-in.
Bubblers
Also called gushers, they are generally in a shallow end and shoot streams of water up in a ripple or bubble
effect.
Deck Jets
Streams of water shoot from the pool deck directly into the pool.
Scuppers
A slot or spout that flows water out from a wall or pedestal.
Sheer Descent
This offers a curtain effect as the water flows from a cantilever or ledge.
Spillover Spas
Water from a raised spa trickles and spills down into the swimming pool.
Spillways
These are perfect for moving water from one area to another.
Rain Curtains
A wide sheet of water that typically flows down from a pergola roof.
Spouts
A small spot where water can flow from an element, such as a stone pot.
Fountains
Perfect alongside a pool, especially if a fire feature is added.
Let's Talk!