Harris County TX Custom Pool Builder: Venture Pool Co.
Private swimming pools have been experiencing a Renaissance these past few years. With the pandemic forcing most of us to stay home in 2020, people understandably got bored.
Many decided that the cure for this boredom was to make their homes more fun by building a pool. So the private pool market exploded as people struggled to cope with being locked in their homes for weeks on end.
A few states, California, Florida, and Texas, already boasted a large number of pools, and COVID-19 added to it. If you're looking for a Harris County, TX, pool builder, you've come to the right place. We'll discuss our services and what we can do for you in this article.
Custom Pool Builders vs. Standard Pool Builders
The biggest question about custom pool builders is why you should hire one. What's the difference between a custom pool builder and one that builds cookie-cutter designs?
The difference is that custom pool builders offer more creative control than standard pool builders. If you want the pool to be a specific size, shape, or have extra features, you'll need it to be customized. A custom pool is uniquely blended seamlessly with the home and backyard decor. A free-form custom-shaped pool can be curved in any way to flow with the layout of the outdoor space.
Verification
An often-underrated advantage that a Harris County, TX, pool builder can offer you is the opportunity to vet them. Letting the pool company choose the builder means that you don't get to know much about them beforehand, nor can you switch builders if the current one doesn't work out. Pool companies such as the Venture Pool Company have their own team of designers, builders, and others. Whereas many other Texas pool builders hire outside sources.
In addition, Texas follows the ISPSC, an international regulatory body that sets standards for pools, spas, and other water-based activities to make them safer and more efficient.
ISPSC stands for International Swimming Pool and Spa Code and mandates that those installing pools must be licensed. The pool installation process often involves a lot of paperwork to get approval for every project step, from design to finishing touches; therefore, it is vital to work with a company, such as The Venture Pool Company, that will make the entire process go smoothly, putting less stress on the future pool owner.
Ask Questions
Sometimes, the best way to learn about a company is to ask them questions. The trick is knowing what kind of questions to ask.
So, many of you have no idea what to ask. Please contact The Venture Pool Company so we can discuss all you need to know. We leave nothing to the imagination. Our consultations are thorough as we bring all matters to your attention before any pool process will begin. We thoroughly discuss your backyard's layout, the best pool shape, size and additional water features that will suit your budget and lifestyle needs.
In the meantime, check out our online gallery showcasing some of our work.
What Happens After the Pool is Built?
Your new pool is in the ground and looks amazing, but what happens next?
What about the pool's decking and how about a patio cover to keep those who wish to be out of the sun comfortable? Why not hire a pool builder that does it all and can provide these services for you as well. Wouldn't that be fantastic?
In addition, as a pool owner, it is vital to understand that standard upkeep needs to be done.
Proper pool maintenance must always be done to keep the pool water crystal clear, safe and healthy. Along with proper cleanings, the pool equipment must be checked to ensure optimal operation. If not, the pool's equipment lifespan will be shortened, resulting in repairs and the need for a new purchase which can become quite costly.
When you hire a custom pool builder such as The Venture Pool Company, you can rest assured after the pool is built, your new pool will continue to be in excellent hands. Our company does not disappear after the pool is in the ground. We can continue to be your pool maintenance provider as we offer all types of pool maintenance services, from one-time cleanings to weekly, monthly and even special cleanings when you may be out of town.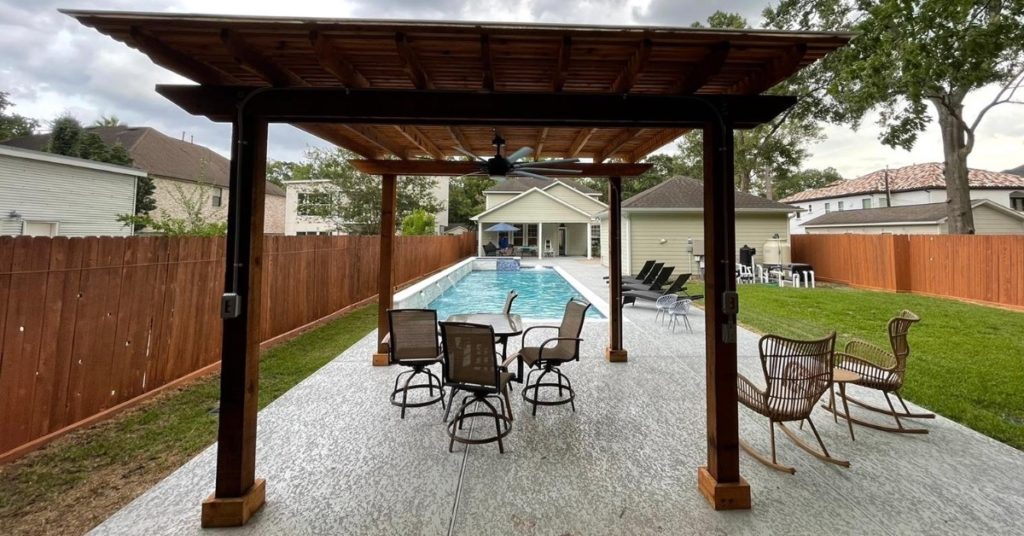 Hiring the Right Harris County TX Pool Builder
If you're looking for a Harris County, TX, pool builder, we're here to help. We've discussed why custom pool builders, and Venture Pool Company in particular, are the best people for the job.
The pool design and installation world can be complicated, so we encourage you to learn more about it. In addition, have you ever wondered about what kind of water features you can put into a pool? When you choose The Venture Pool Company as your pool builder, your options are limitless.
Contact The Venture Pool Company in Houston, Texas, today to learn more about us and our pool services. We service Houston, Texas and the surrounding areas far beyond. See list below, but out services are not limited to these locations.
Aldine, Atascocita, Barrett, Baytown, Bellaire, Bunker Hill Village, Channelview, Cloverleaf, Crosby, Deep Park, El Lago, Galena Park, Highlands, Hilshire Village, Houston, Humble, Hunters Creek Village, Jacinto, Jersey Village, Katy, La Porte, Morgan's Point, Nassau Bay, Pasadena, Piney Point Village, Seabrook, Sheldon, Shoreacres, South Houston, Southside Place, Spring, Spring Valley Village, Taylor Lake Village, Tomball, Waller, Webster, West University Place and beyond.