3 Amazing and Unique Pool Water Feature Spouts and Scupper Ideas
Whether you're trying to blow off steam or win a trophy, swimming is an excellent form of exercise and can be relatively accessible. The youngest competitive swimmer was only ten, and the oldest was 100.
Perhaps it's not surprising that many homes in the United States have swimming pools. However, a good swimming pool sometimes feels incomplete without decorative pool water spouts.
Some bypass water spouts and add scuppers instead. It all depends on your pool and what you want to do with it. Making the final decision can be tricky, so we'll discuss some of our favorite options in this article.
Water Scuppers
Scuppers are a pool feature where a raised area spills water into the main pool. These areas can be anything from a hot tub to a purely decorative element.
Scuppers is a nautical term that dates back to around the 1300s. It referred to holes in the sides of a ship that allowed excess water to spill out. Being a wooden vessel on the water meant flooding was a major problem, so shipwrights devised several methods to counter it, including scuppers.
In the time since, scuppers were adopted for several other purposes, like draining water off rooftops and creating water features in a swimming pool.
There is an endless array of scupper designs and materials. The most common material is metal which comes in bronze, copper and stainless steel. The metal provides for a bit of brilliance when placed in concrete and stone.
As for the design types, scuppers can blend beautifully with all kinds of pools, from modern, contemporary to traditional and tropical.
A few styles of water scuppers:
Thin sheet flow of water – A narrow opening at the front that creates wide, thin water flow. Since there is a broader flow, this is considered a scupper.
Conventional pipe flow – Pipes protrude out from a wall where the water trickles down from. This design is typically referred to as a fountain spout.
Decorative pool water scuppers – Unique styles and designs are limitless.
Scuppers can be created to any custom size and shape for something unique.
They can be incorporated anywhere within or around the swimming pool. They can be built within a waterfall, pool spa, and standalone feature such as a fountain where water flow can trickle out into the pool.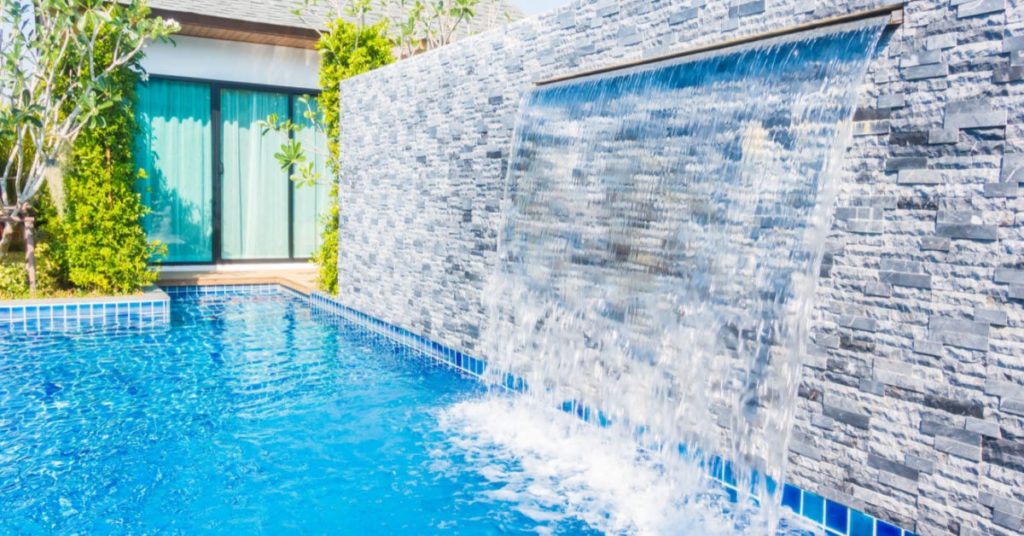 Water Fountain Spouts
Sometimes, the classic approach is best, and in the case of pools, this means fountains. People have used fountains to decorate parks, ponds, and many other features because they add a tranquil feel.
When designing pools, many people want them to blend in while also standing out. Their goal is to make the pool look natural yet magical as if a fairy tale grotto erupted out of their yard one morning.
Spouts can be easily built within water fountains and bowls where the water flows out with a thin flow. As mentioned above they are generally a pipe design where the pipes protrude out from a fountain where the water trickles down.
Fountains can also be built in various ways, including traditional and bubbly. Bubbler fountains differ because they rest under the water. The pressure from the rush causes a geyser of bubbles on the surface.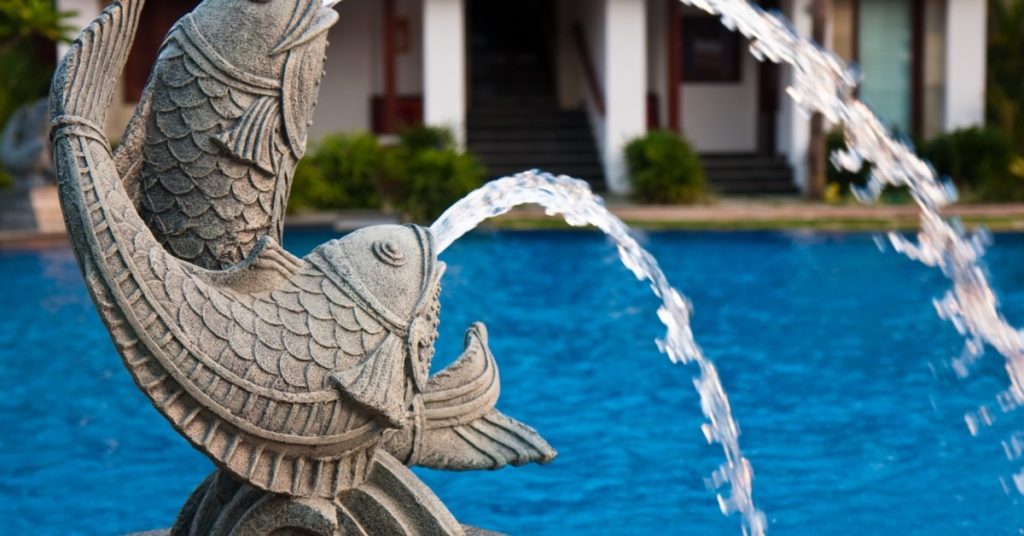 Waterfalls Another Water Feature Design Option
Waterfalls are arguably the most beautiful feature in nature, and you can get one put into your pool. Much like water fountains, waterfalls add a sense of peace and beauty.
Artificial waterfalls can be either rocky or sheer, depending on their design features. As the name implies, rocky waterfalls are built out of fake rocks and cliffs to make the waterfall look realistic.
Sheer waterfalls, meanwhile, go in the opposite direction. These waterfalls are often built with technology in mind. They pour into the pool from subtle design features to put modernism at the forefront.
Decorative Pool Water Spouts and Scuppers
Adding decorative pool water scuppers and spouts can enhance the ambiance of any pool. We have provided you with a brief overview, but there's always more to learn about pool design.
You can learn about pools and the various modifications available by visiting our site. If you're looking for water feature options, pool design, pool construction, renovations, maintenance, cleaning and repair in the Texas area, we can help. We welcome you to look at some of our remodeling services and contact us at the Venture Pool Company to learn more.