Galena Park TX

Pool Builders
Designers – Installers – Cleaning – Maintenance
Full-Service Galena Park TX Pool Builders

Design, Construction & Maintenance
In the heart of Galena Park, Texas, a city with a population of about $10,000 and near Houston resides those enjoying a peaceful and quiet community while having quick access to the big city of Houston.
As the outdoor amenities are plentiful in Galena Park, Texas, homeowners still want to enjoy the luxury of pool paradises in their backyards. This enticement makes many explore the possibilities of pool construction. But, pool construction does not sit alone without first creating a stunning design layout, putting in place expert contractors using high-quality materials, followed by the cleaning and maintenance that comes with every inground swimming pool.
So, what should every Galena Park, TX property owner look for when searching for Galena Park TX pool builders: a trio of experts – swimming pool designers, pool construction installers, and pool cleaning and maintenance services.
Combining these pool services into hiring one company forms the backbone of a journey towards creating the ultimate backyard sanctuary. Beyond the practical aspects of designing, constructing, and maintaining a pool lies a world of creativity, innovation, and rejuvenation when choosing the best Galena Park Texas pool builder.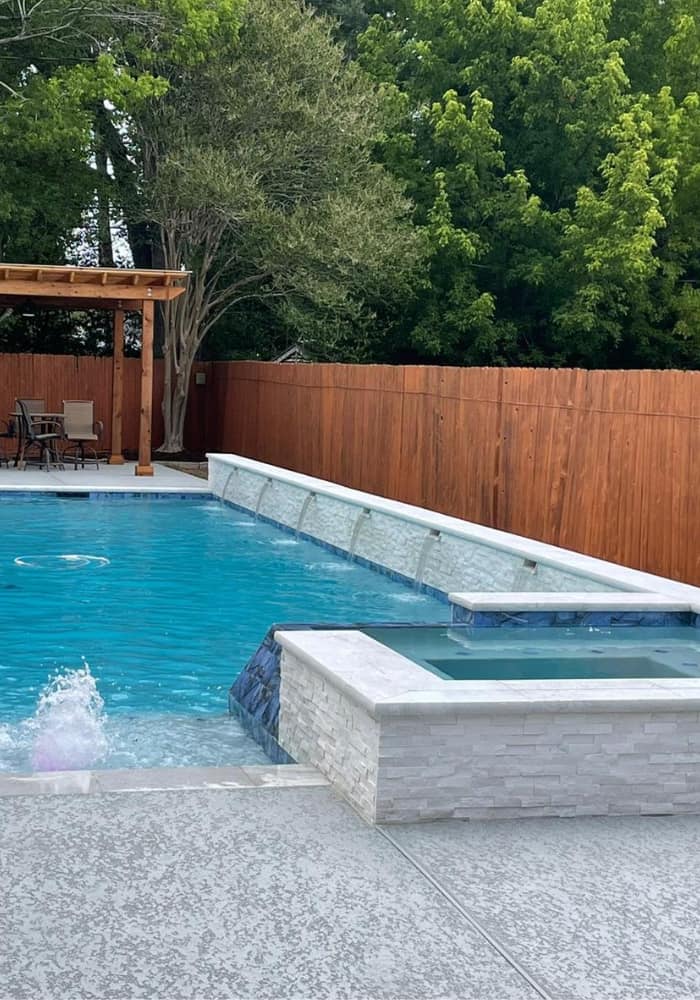 Swimming Pool Designers

Crafting Dreams into Reality
The Venture Pool Company team of pool designers in Galena Park, TX, are the artists of the swimming realm. With a creative eye for aesthetics, our designers transform mere visions into tangible paradises.
The design possibilities are boundless in this region, where the climate encourages outdoor living. From contemporary infinity pools that merge seamlessly with the horizon to rustic rock grottoes that evoke the beauty of nature, The Galena Park TX pool builders, Venture Pool Company, pool designers create unique masterpieces to suit each homeowner's lifestyle and needs.
One intriguing design trend that has taken root in recent years is the fusion of classic elegance with modern functionality.
Combining geometric lines with natural elements, such as stone decking and lush landscaping, results in pools that invite relaxation and add a touch of sophistication to the outdoor space. Innovative lighting solutions also play a pivotal role, transforming the pool area into a captivating oasis after sunset.
Pool Construction Installers

Building Foundations of Luxury
Our Venture Pool Companu pool construction installers servicing Galena Park TX are the architects of swimming pool engineering. With precision and skill, they transform designs into solid structures of high quality and beauty.
Proper construction is vital to ensure a pool's longevity and safety in a region where temperatures can soar.
Recent advancements in construction technology have revolutionized the pool-building process. Energy-efficient filtration, cleaning, heating systems and smart automation are seamlessly integrated into the pool's framework.
These advancements enhance the pool's performance and contribute to sustainable living. In addition, less maintenance and cost over the long run.
Pool Cleaning & Maintenance

Nurturing Wellness
A pristine pool is a visual delight and a source of holistic well-being. The pool cleaning and maintenance services the Venture Pool Company provides in Galena Park, TX, know this, becoming caretakers of water vitality.
Our pool cleaning and maintenance professionals with expertise in water chemistry, filtration systems, and equipment maintenance ensure that pools remain inviting and safe havens for relaxation.
Innovations in pool maintenance have introduced eco-friendly practices that resonate with the environmentally conscious residents of Galena Park. Saltwater pool systems are replacing traditional chlorine chemicals, promoting a more enjoyable swimming experience while reducing the pool's ecological footprint.
In addition, remote monitoring and control systems allow homeowners to manage their pools' upkeep from the convenience of their smartphones, making maintenance a seamless part of their lives.
Creative Design Ideas

Embracing Imagination
As the pool industry evolves, so do the creative design ideas that captivate homeowners' imaginations. One exciting trend gaining traction in Galena Park is the intriguing concept is the fusion of relaxation and recreation.
Pool designs that incorporate both leisure areas and active zones cater to diverse interests. Imagine a pool that transforms from a serene meditation space to a lively water volleyball court. This innovative approach ensures that the pool becomes a dynamic hub for family gatherings and social interactions.
Contact Venture Pool Company

Galena Park TX Pool Builders
The Galena Park TX Pool Builders Venture Pool Company encompasses a world of creativity, innovation, and rejuvenation.
The collaboration between swimming pool designers, construction installers, and cleaning and maintenance services shapes stunning swimming pool landscapes and nurturing spaces that enhance well-being.
From trendsetting designs that blend classic elegance with modern functionality to sustainable construction practices and eco-friendly maintenance solutions, the pool industry in Galena Park embraces a future where luxury, nature, and innovation merge.
With each project, our Venture Pool Company professionals turn dreams into tangible reality, crafting backyard sanctuaries and bringing pool owners to a new world of luxury.
Contact us today. We look forward to being your Galena Park TX pool builders of choice.