Pearland TX

Pool Builders
Designers – Installers – Cleaning – Maintenance
Full-Service Pearland TX Pool Builders

Design, Construction & Maintenance
For those who reside in Pearland, Texas, where the sun's warmth lingers year-round, the dream of having an inground swimming pool has flourished. The desire for a cool oasis in the backyard, surrounded by the vibrant hues of Texas flora, has become a compelling vision. Envisioning weekend gatherings with family and friends, laughter echoing against the backdrop of sparkling water, pursuing this dream has become a passionate endeavor.
Researching pool designs, consulting with local experts, and navigating the permitting process are steps taken with unwavering determination. The goal is not just to own a pool but to create a haven where memories are made and the Texan spirit of hospitality is embraced.
In Pearland, where community and relaxation intertwine, pursuing the inground swimming pool dream is not just about enhancing a property but crafting a lifestyle immersed in the joy of sunny days and starlit nights. The Venture Pool Company is here to make this all happen.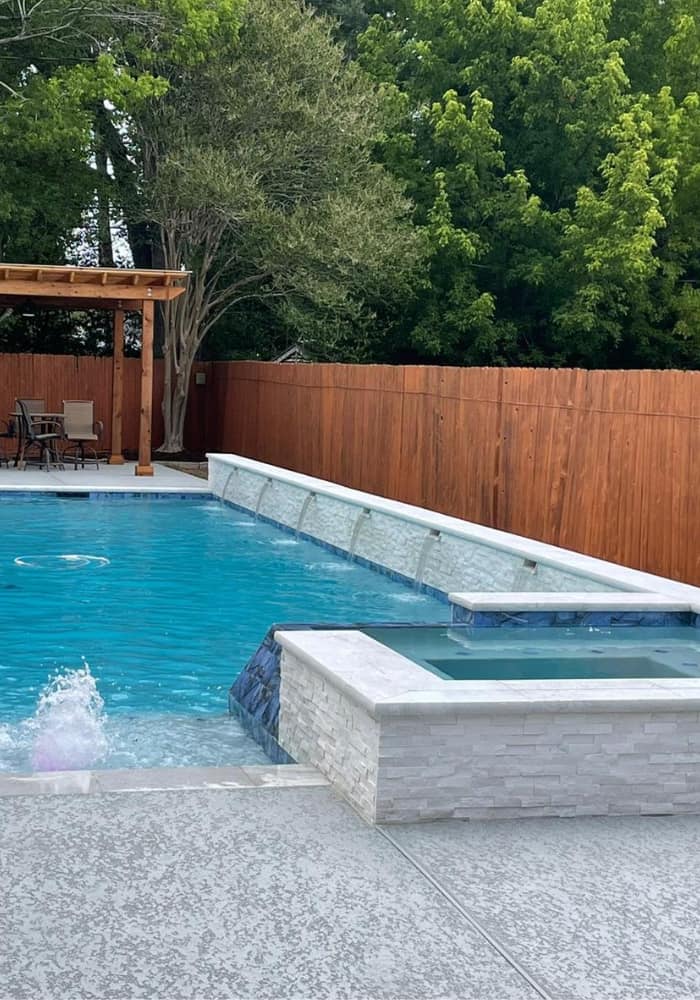 Swimming Pool Designers

Crafting Unique Pools
The Venture Pool Company, with a steadfast commitment to craftsmanship and innovation, has built an excellent reputation as an acclaimed Pearland TX pool builder that has carved a niche as the destination for inspirational pool designs in the region.
The team of skilled artisans and designers exhibit an unparalleled passion for creating spaces that seamlessly blend functionality with aesthetics, ensuring each pool is a unique reflection of the homeowner's vision, personality, lifestyle and budget.
From sleek modern designs that mirror the city's contemporary vibe to more classic layouts that resonate with the timeless charm of Pearland, Venture Pool Company excels in customizing every detail to perfection.
The collaborative approach involves clients at every stage, ensuring a personalized touch that transcends expectations. In Pearland, where the desire for outdoor living is as enduring as the Texas sunshine, Venture Pool Company emerges as the best partner in turning visions of luxurious poolscapes into tangible, breathtaking realities with stunning pool designs.
Pool Construction Installers

Building Pools to Last
Venture Pool Company's pool construction and installation services in Pearland, Texas, epitomize a seamless blend of expertise and precision. As the team is committed to excellence, they embark on each project with a meticulous approach, ensuring that every pool construction reflects the highest standards of quality.
Their seasoned team of construction professionals handles each phase with adept skill, from the initial excavation to the placement of the final tile. The installation process unfolds like a carefully choreographed dance, with attention to detail and a focus on delivering a pool that not only meets but exceeds the client's expectations.
Venture Pool Company's commitment to using cutting-edge technology and superior materials ensures that the pools built are not only aesthetically stunning but also durable and low-maintenance.
Pool Cleaning & Maintenance

Sit Back, Relax and Enjoy

Venture Pool Company's commitment to creating a lasting impact extends beyond the initial construction phase, as unparalleled pool cleaning and maintenance services in Pearland, Texas, are offered.
Recognizing that a well-maintained pool is essential for sustained enjoyment, Venture Pool Company's professional maintenance team takes on the responsibility of ensuring each pool remains a pristine oasis year-round.
The cleaning services encompass everything from routine skimming and vacuuming to thorough water testing and chemical balancing. Whether it's removing debris, scrubbing pool surfaces, or inspecting equipment, Venture Pool Company approaches every task with diligence and expertise. With a keen eye for detail, they address potential issues before they escalate, promoting longevity and reliability.
By entrusting your pool's care to Venture Pool Company, you're not just investing in a service; you're securing peace of mind and the continued enjoyment of a well-maintained pool in the heart of Pearland.
Contact Venture Pool Company

Pearland TX Pool Builders
To transform your backyard dreams into a stunning reality or to ensure the ongoing beauty and functionality of your existing pool, contact Venture Pool Company today for pool construction, design, installation, and cleaning and maintenance services.
Reach out to our team, and let us guide you through the process of creating a pool experience customized just for you, your lifestyle and your budget.
Contact us now for a consultation and take the first step towards enjoying the luxury of a beautifully designed and impeccably maintained pool.