What To Know About Venture Pool Company, Cypress TX Custom Pool Builders
During the summer months, the temperature in Cypress TX, and the entire Houston, Texas, areas can rise to well over 100 degrees. The best way to cool off is definitely with your own backyard pool.
But it's not enough to get just any old pool. To enjoy fun in the sun and boost the appeal and value of your home, you need a custom inground pool. You might be looking for a new company to work with.
Want to know more about Venture Pool Company, one of the best Cypress, Texas, pool builders? Read on! We've put together this quick guide featuring everything you need to know.
Humble Beginnings
Venture Pool Company is a family-owned business located in the Greater West Houston area. Founded in 2003, we have expanded our staff, drawing in expert designers and engineers to help us provide an increasingly better service to our clients.
Since our establishment, we've prided ourselves on taking a bespoke approach to customers. Pools shouldn't all be the same. We believe everyone should be able to choose what kind of pool they want for their home.
We know there's a lot of competition in the area regarding pool companies. That's why we go the extra mile to prove our worth to customers and be the best pool builders in Cypress TX.
Community Excellence
The best way to know a company does good work is to look at its track record. If the business has a good reputation in the local area, it's a good sign they'll be right for you too.
We pride ourselves on our excellent reputation in the local community. But don't just take our word for it. Take a look at our testimonials and find out more about the quality level of service we offer.
Building From Scratch
Venture Pool Company are experts in building new pools from scratch. Since we opened for business in 2003, we've installed hundreds of pools around Cypress and beyond.
When you with Venture Pools, you will not get a pre-packaged, generic product. We work with you to decide on each element of the pool, from significant aspects like size, shape, and location to finer details like the surfacing with plaster, tiles and others.
We work within all budgets. Small pools such as spools, plunge and cocktail pools are an excellent option for those with a minimal budget. For those who swim laps, considering a lap pool would be great. There are no limits when you choose Venture Pool Company as your pool builder, so if you are alone or just with a spouse or have a house full of children, it does not matter. We will design and build to accommodate all lifestyles.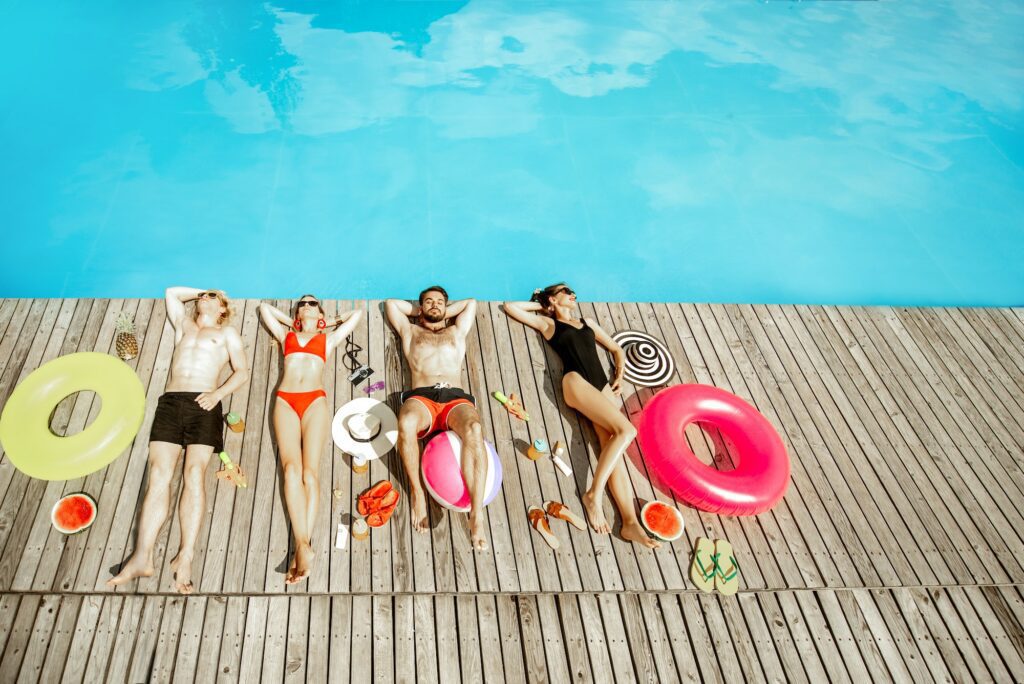 Pool Remodeling and Renovations
If you have your own pool, that doesn't mean you have to keep it the way it is. Maybe it was there when you moved into your home or chose the design many years ago. Whatever the case, you can remodel an existing pool to create something new and exciting!
The remodeling services we offer range from minor upgrades to full-scale changes. Some services include:
Adding water features
Updating plumbing
Resurfacing
Equipment upgrades
You can make many changes to an existing pool with all these different features. The customization options are so varied it's almost like getting a brand new pool.
Water Features
One of the best ways to improve a pool is to add a water feature. This can give your pool a relaxing or stylish feel, depending on the type of water feature you opt for.
We offer a vast variety of water features to enhance your pool. A small selection of the features we have on offer:
Waterfalls
Spouts
Fountains
Slides
Spillover spas
Whether you want to make your pool an extra relaxing place to be or add something fun for the kids, we've got you covered. Your neighbors will be impressed, and your home value could rise thanks to the addition of a well-placed feature.
Servicing and Repairs
Installing a new pool is only the first step on the journey. A pool requires maintenance and repairs to keep it in good condition throughout the years.
We're a full-service pool company that can help your pool stay in great shape. We understand that maintenance is a lot of work and can be challenging for those without the proper equipment or experience. You can rely on our expert staff to do a thorough job when we clean your pool.
We offer weekly pool cleaning. This service includes surface skimming, water analysis, backwashing, and brushing. This will help you get the best out of your pool since you can spend less time cleaning and more time swimming.
Over time, you may find your pool needs repairs. Whether it's cracked tiles or faults with attached water fixtures, they can ruin your entire pool experience. Luckily, we're on hand to help with all your repair needs all year round.
Cypress TX Special Services
Along with these standard pool services, we can do a few extraordinary things for customers who request them. We offer a wide range of special services.
One popular service is one-time pool cleaning. This can be useful if you've got a problem with algae or cloudy water. We can come along and give the entire pool a thorough clean, ensuring it's shipshape in record time!
Another favorite is the vacation cleaning service. Nobody wants to return from a relaxing vacation to find their pool covered in algae or something worse.
Quality Cypress TX Pool Builders Are Just a Click Away!
Getting a new custom inground swimming pool or remodeling an existing one may seem daunting. Luckily, we're here to help you get a fantastic pool for your backyard. We have the expertise and resources to create something that works well for you and your family, which is why we're so well regarded as Cypress TX, pool builders.
There's so much we can do for you, but you won't learn about our good qualities until you work with us. Contact the Venture Pool Company to get a quote today, and let's start your journey to a fantastic pool.