Katy TX Pool Builders
There are almost 17,000 pool construction companies in the USA as of 2022. This means that there are many choices when searching "pool builders near me in Katy, TX."
But this much choice might leave you feeling overwhelmed. It can be challenging to weed out who the best pool builders are. We offer high-quality pool construction and renovations here at the Venture Pool Company.
This article dives into why we are the best pool builders in Katy, TX, so you don't have to stress! We will cover our different services, so you know what to expect when you choose us!
Building a Custom Pool
When building a custom swimming pool, we like to get creative here at Venture Pool Company. Our unique swimming pool designs will make the most of your backyard layout space. We also design to fit the style and decor of your outdoor area and your personality and lifestyle.
We want to create the ideal customer swimming pool for you. So we consider your taste, whether you prefer a slick modern look or a more rustic or tropical natural style. We can include water features in your pool as an exciting addition. There are so many styles to choose from; you will indeed find something that fits your aesthetic.
As mentioned when designing an inground swimming pool, homeowners' lifestyle is vital. This means adding safety features for children or support for the elderly. In addition, we cannot forget the adults. Will the pool be used for couples to relax together after a long stressful day. Will it be used for family and friend gatherings? When you choose The Venture Pool Company, lifestyle is never a problem.
Swimming Pool Renovations
You may already have a swimming pool at home, but it could need a little love and attention. In this case, a swimming pool renovation could be just what you need.
We can help you to alter the shape, size, or finish of your pool so it fits your needs better and, of course, has a new fresh look. We can provide you with many swimming pool ideas with lots of choices. From upgrading your access steps, ladders, and pool equipment to a complete overhaul, The Venture Pool Company does it all. No pool renovation is too small or too large.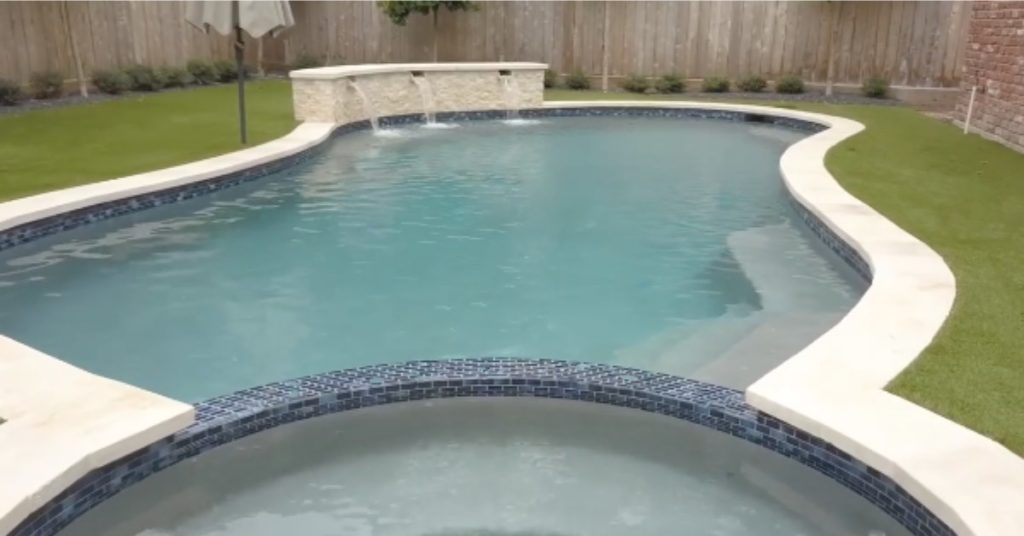 Check Out Previous Projects
If you are paying a significant amount for a pool contractor, you want to ensure you'll get your money's worth. So don't take our word for it; check out our gallery of previous projects.
As you can see, we have a very diverse portfolio, capturing different styles, sizes, and shapes. We can provide customer references for our craftsmanship and customer service. So you can have peace of mind that your project is in safe and capable hands while the result will be nothing short of amazing.
Maintainance and Cleaning
Here at Venture Pool Company, we don't only build pools. We can also help with long-term pool maintenance and cleaning.
We offer many different services which can make your life easier. So you can kick back, enjoy your pool, and let us do the hard work! From balancing your pool chemicals to preparing the pool for winter, we are here to help.
The Best Pool Builders in Katy TX
Building a swimming pool should be a fun and exciting project. Finding the best pool builders in Katy, TX will help make the experience run smoothly. Whatever you are looking for, a trustworthy pool contractor will save you time and energy!
If you are looking for a custom Katy swimming pool builder, choose Venture Pool Company. Get in touch with us today to get a quote on your swimming pool project. We can help you turn your ideas into reality!