When designing a trendy and exciting swimming pool in Houston, pool tiles play a crucial role in enhancing the aesthetic appeal and functionality of the pool. Pool tiles provide a visually appealing look and offer durability, slip resistance, and ease of maintenance. With various pool tile options and materials available in the market, including porcelain, ceramic, glass, and stone, Houston pool owners have many trendy options.

Glass Tiles
Glass tiles are trendy and luxurious pool tile options known for their stunning visual appeal for Houston pool designs. They are made from cooled molten glass and then cut into small pieces, resulting in a beautiful and vibrant tile option.
A huge benefit is a highly varied selection allowing for endless design possibilities. For example, you can opt for a simple classic blue or more intricate patterns resembling Grecian baths, like patterns of flowers and others.
Glass tiles are also highly resistant to chemicals, fading, and water absorption, making them a durable option for Houston's harsh climate. Additionally, glass tiles are non-porous, making them easy to clean and maintain, making them a popular choice among Houston pool owners who want a trendy, low-maintenance option.
Though they look beautiful with a stunning aesthetic, the downside is that they can be more expensive than other trendy pool tiles options like porcelain and ceramic.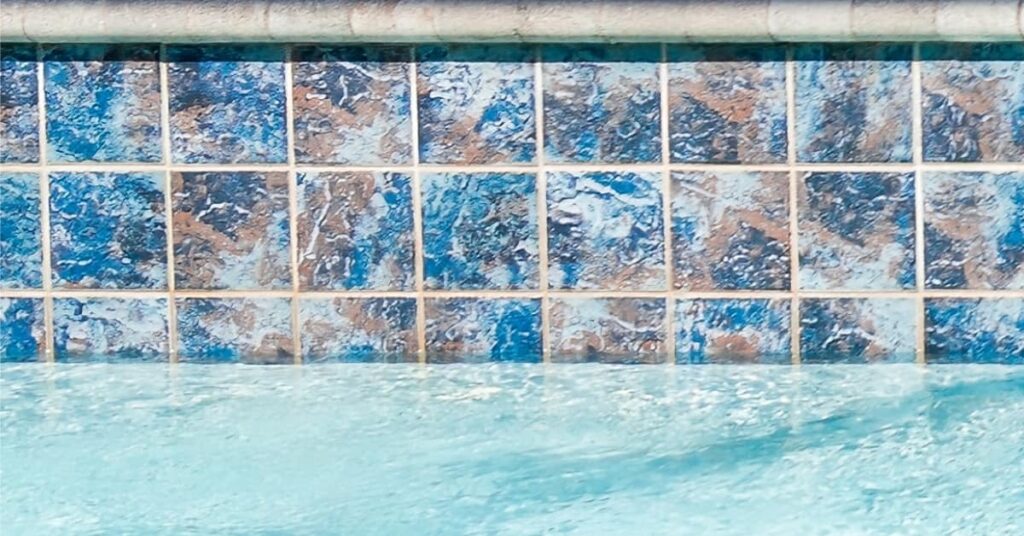 Porcelain Tiles
Porcelain tiles remain the most common choice due to their softness, denseness, durability and versatility. Porcelain pool tiles are made from high-quality clay fired at a higher temperature than other tiles, making them denser and less porous. This results in a tile that is highly resistant to water absorption, chemicals, and fading from the sun, making it an excellent option for Houston's hot and humid climate.
Porcelain tiles are available in a wide variety of colors, intricate patterns, and textures, allowing for endless design possibilities. From sleek, modern and contemporary to traditional, classic and timeless, porcelain tiles can cater to various design styles.

Ceramic Tiles
Ceramic tiles are a close contender for porcelain. However, ceramic tiles, though made from natural clay, are fired at a lower temperature than porcelain tiles, making them less dense and more porous. In addition, modern ceramic tiles are often treated with a glaze that provides them with water resistance, durability, and UV resistance.
Like porcelain tiles, ceramic pool tiles are available in many designs, including mosaic patterns, solid colors, and textured finishes, making them versatile.
Price-wise, ceramic can be more budget-friendly than porcelain and glass, making them an attractive choice for pool owners on a budget.

Stone Tiles
Natural stone tiles are a timeless option for trendy pool tiles in Houston, providing an earthy and rustic look. Stone tiles, such as travertine, limestone, granite, and marble, offer a natural look that can complement various pool designs, from Mediterranean to modern.

Travertine
Travertine stone tile is highly durable and ideal for pools; however, they are porous, absorbs water, and may need to be sealed every few years.

Limestone
Limestone is durable as they are mold resistant. In addition, they are slip resistant and, best yet, less costly than other natural stones.

Granite
Granite is durable and low maintenance. However, if entertaining in or by the pool, watch out for acidic foods and drinks as they can stain the granite.

Marble
Marble tiles are the most expensive and offer an extremely high-end appearance.

Choosing Your Tiles
When looking at your pool tile options, it's essential to consider the material that best suits your style and budget. But do not overlook the size of the tiles, as size matters where they are being installed. For example, large tiles can crack easier than smaller ones if placed along the pool's waterline and in the middle of the pool.

Let Venture Pool Company Help You Choose
With so many pool tile options, let our expert pool company help you and guide you through all the options. Contact us here to set up a free consultation.