Swimming pools are a great addition to any backyard, providing relaxation and recreation during the hot summer. However, it is essential to maintain your desired level of seclusion around the pool area to ensure that you and your family slip out into your backyard retreat without any interruptions.
Therefore, it is well worth installing various landscape privacy components, including stone walls, fences, privacy trees, hedges, layers of plants, shrubs, and trees.
We explore a few landscape privacy ideas to help you move forward to have a personal sanctuary by the pool in your backyard.

The Best Landscape Privacy Ideas

Stone Walls
A natural stone wall surrounding your backyard inground swimming pool, whether earth-toned, cool toned or other, will undoubtedly bring an awe-inspiring appearance to any backyard. Using 100% natural stone will surely bring 100% natural beauty.
When choosing the right builder, they can be customized at any height and blend seamlessly into the style of your backyard. They can be built into the hillside or stand-alone to keep the nosy neighbors out of sight.

Fencing
Regarding landscape privacy ideas, fences are among the most common elements around a swimming pool. They can come in various forms and styles, such as wood, vinyl, aluminum, wrought iron, stone, etc.
Some of the popular fence designs include:

Solid Fence
This fence type is perfect for privacy as it obstructs the view from the outside by more than 20%. It can be made with any of the materials listed above. Consider solid vinyl for a modern and contemporary look; for rustic, how about a stone wall and for a natural and tropical look, think about wood.
In addition, it can serve as a windbreaker, and with the right tools and materials, it can be built to any height.

Picket Fence
When we think of a picket fence, most think of that cute little white fence surrounding a little yellow, blue or another colored house. Yes, it can be open, as we know it, providing an open and airy feel, but it does not have to be.
All you need are 4×4 treated posts, 3 – 8 ft. backer rails for each section (typically treated 2x4s) and 6 ft. pickets. Install the posts in concrete, attach backer rails to each post at the bottom, middle and top, then add the pickets to the backer rails leaving no space in between, and now you have the perfect privacy picket fence.

Glass Fence
A glass fence is a modern, sleek design typically made from tempered glass with aluminum or stainless steel frames. Unfortunately, transparent glass can leave your backyard pool area exposed to onlookers. But we have the answer for you.
Consider applying a window film, frosted or other to get your desired privacy. Choosing the right window film type will not detract from your home's aesthetic.

Chain Link Fence
A chain link fence is a budget-friendly option but provides little privacy. A few ways to close in the opening are:
Inserting slats down it using aluminum or high-density polyethylene
Installing wire mesh, while not the most attractive, it's wind and water-permeable,
Attach bamboo screens for a natural and tropical look; however, since the bamboo is organic, if not adequately maintained, it can turn brown and develop cracks, leaving them susceptible to a short lifespan.
Last but not least, attach wood panels horizontally or vertically. They can offer up to 100% privacy and are durable if appropriately maintained by applying weather-resistant sealants.

Lattice
Lattice is both decorative and functional. It is an excellent choice for those who want to install climbing plants which will help to enhance privacy. Some plants, such as roses and vines, will require extra care. You can train the plants to grow in various directions for beauty and privacy or cover the lattice completely.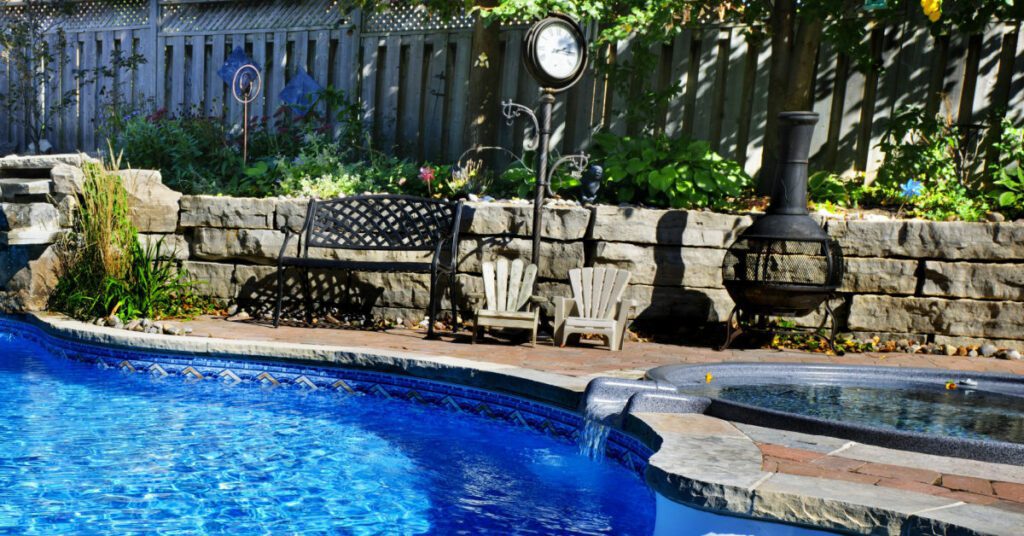 Privacy Trees
Privacy trees provide a natural and attractive appearance. Plant in rows for a minimalist look or group and spread out to create a more natural screen.
Below are a few popular privacy trees for pool areas.

Leyland Cypress
The Leyland cypress is a fast-growing evergreen tree that provides year-round privacy. It can grow up to 60 feet tall and is available in various sizes. Leyland cypress is easy to maintain and is drought tolerant.

Arborvitae
Arborvitae is an excellent privacy tree that is easy to grow and maintain. It can grow up to 30 feet tall; just remember that if your property is susceptible to deer roaming about, arborvitaes are an excellent meal for them.

Ficus Nitida
This is an excellent fast, growing tree for instant privacy. They grow well in any environment but love full sun and require minimal maintenance. Planted right next to each other will allow for maximum dense privacy.

Bamboo
Bamboo is fast-growing and perfect for a tropical look to your pool area. It can grow up to 40 feet tall.

Hedges
Hedges are another natural way to create a privacy screen around a swimming pool. They can be shaped into any design or height to create a unique look.
Some of the popular hedge varieties for pool areas include:

Boxwood
Boxwood is a slow-growing hedge that provides a classic look to your pool area. There are also artificial boxwood hedges available that offer a subtle natural look. They can be 12 ft. high, keeping the eyes of people passing by off your pool area. They are durable, fade-free and can last for years.

Privet
Privet is a fast-growing hedge that provides a lush and dense screen around your pool area. They can grow upwards of 15 ft with adequate maintenance. However, since they are deciduous, they will lose their foliage in the fall.

Landscape Privacy Ideas Using Layers of Plants, Shrubs, and Trees
Layering plants, shrubs, and trees is another way to create a natural privacy screen around a swimming pool. By planting different varieties of plants, you can create a multi-layered look that provides privacy and adds depth to your pool area. Some of the popular plant, shrub, and tree combinations for pool areas include:

Tall Trees, Shrubs and Groundcovers
This combination involves planting tall trees at the back of the pool area, shrubs in front of the trees, and groundcovers at the front.

Evergreens, Deciduous Trees and Shrubs
Planting evergreen trees and shrubs at the back of the pool area, deciduous trees in the middle, and shrubs and groundcovers at the front.

Ornamental Grasses, Shrubs and Trees
Ornamental grasses at the front of the pool area, shrubs in the middle, and trees at the back will bring various colors and the desired privacy.
These landscape privacy ideas for backyard pools offer a multi-layered look that provides year-round privacy.

Landscape Privacy Ideas, Learn More From The Experts
Yes, having an inground swimming pool is excellent; however, with the right landscaping privacy ideas put in place, it can be even better.
Let the Venture Pool Company, experts in the pool industry, help you start the backyard you have always wanted. Contact The Venture Pool Company today to learn more about our full line of poolscape services.