Creating Dreamscapes: Custom Inground Pools in Houston
In the heart of Texas, where the sun shines year-round, and the warmth of southern hospitality abounds, Houston residents have discovered the ultimate way to beat the heat and transform their backyards into personal paradises – custom inground pools.
Leading this backyard swimming revolution is none other than Venture Pool Company, your trusted source for crafting dreamscapes in the form of breathtaking inground swimming pools.

Houston's Love Affair with Inground Pools
It's no secret that Houstonians have a particular affinity for outdoor living. With its hot and humid climate, the city is practically designed for the year-round enjoyment of the great outdoors. In such an environment, having a swimming pool isn't just a luxury; it's a necessity.
Custom inground pools have become the centerpiece of many Houston homes, offering a refreshing respite from the heat, a space for family gatherings, and an oasis of relaxation.

The Visionaries at Venture Pool Company
In a city as diverse and dynamic as Houston, where every homeowner's dream is unique, it takes a visionary company like Venture Pool to turn those dreams into reality. With a reputation for excellence, creativity, and unparalleled craftsmanship, Venture Pool Company is the leading choice for those seeking to create their backyard haven.

Unleash Your Imagination
At Venture Pool Company, we truly know your backyard is a blank slate waiting to be transformed. Our dedicated team of professionals works tirelessly to ensure that every pool we build is a work of art, uniquely customized to your desires and lifestyle. We can make it happen whether you envision a sleek, modern oasis with clean lines and a minimalist aesthetic or a lush, tropical paradise complete with cascading waterfalls and lush landscaping.

The Consultation Process: From Dream to Design
Embarking on your journey to create a custom inground pool in Houston is a collaborative process. It starts with a consultation, where our experts sit down with you to understand your vision, needs, and budget. We believe the most exceptional results come from open communication and a deep understanding of your desires.
Once we've gathered all the necessary information, our designers will begin crafting a detailed plan for your pool. Every element, from the shape and size to the materials and features, is carefully considered to ensure it aligns perfectly with your vision. We drive to strike a harmonious balance between aesthetics and functionality, creating a stunning pool that is a practical and enjoyable addition to your home.

Quality That Speaks for Itself
When you choose Venture Pool Company for your custom inground pool project in Houston, you choose quality that speaks for itself. We take immense pride in our work, which shows in the precise attention to detail we bring to every project. Our team comprises experienced craftsmen who are passionate about their craft, and this passion sets us apart.
We use only the finest materials and the latest construction techniques to ensure your pool is beautiful and built to last. From the foundation to the finishing touches, we spare no effort in delivering a pool that exceeds your expectations.

Custom Inground Pools in Houston With Innovative Features for Every Lifestyle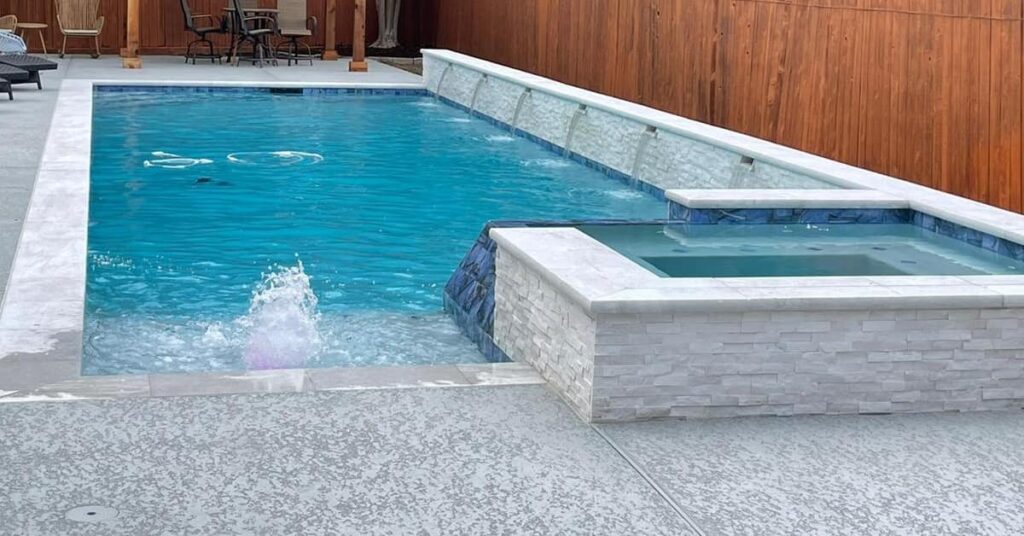 Custom inground pools in Houston designed and installed by the Venture Pool Company are more than just a body of water; they reflect your lifestyle. Venture Pool Company offers many innovative features that can elevate your pool experience.
Water Features: From elegant fountains and bubblers to dramatic waterfalls, the soothing sound of flowing water can enhance the ambiance of your pool area.
LED Lighting: Illuminate your pool in various colors to create a mesmerizing nighttime atmosphere.
Spa and Hot Tubs: Unwind and relax with a spa or hot tub integrated seamlessly into your pool design.
Smart Automation: Control your pool's temperature, lighting, and water features with a button on your smartphone.

Combined with our design expertise, these features can turn your pool into a multi-functional space, making your backyard a beautiful and functional paradise.

An Investment That Pays Dividends
A custom inground pool in Houston is not just an expenditure but an investment in your home and quality of life. It enhances your property's value, making it more attractive to potential buyers if you ever decide to sell. Moreover, it provides you and your family with years of enjoyment, creating lasting memories that can't be measured in dollars.

Bringing Your Houston Dream Pool to Life: Custom Inground Pools In Houston
With Venture Pool Company as your trusted partner, your dream of owning a custom inground pool in Houston is closer than you think. Our knowledgeable team handles all aspects of the project, from design to permitting and construction and landscaping. We take care of the details, which enables you to focus on what matters most – enjoying your new pool.
If you're ready to embark on the journey to create your oasis, contact Venture Pool Company today. Let us be your trusted source for custom inground pools in Houston, and together, we'll turn your backyard into a dream come true. Your paradise awaits!