Swimming is one of the best activities for all ages to keep fit and healthy. It builds endurance, improves cardiovascular health, and promotes a positive mental state. Having the facility to do it in your own backyard can transform your life for the better.
But building an outdoor pool may seem like a complicated project. There are many factors to consider, and it may be overwhelming to decide upon.
This article gives you all the details of Texas pool installation. We will cover the costs involved, as well as some different design considerations. We also discuss how long swimming pool building projects can take. 
Last but not least, we discuss how building a pool can influence the value of your property. Read on for your comprehensive pool installation guide.
How Much Does the Average Pool Cost in Texas?
The cost to install a pool in Texas can vary depending on your style and features. An in-ground pool's average price is between $35,000 and $70,000. But prices can go much higher if you are building something very customized.
Here are some of the things that will influence your pool budget when deciding on Texas pool installation:
Water features
Seating areas
Landscaping and Decking
Pool lighting
Pool Covers
Pool steps and ladders
Play features (water slides etc.)
Cleaning equipment and heating
Some of these things are optional, but things such as lighting are key health and safety features. On average, adding lighting to an inground pool will be between $700-$1800 of your pool budget. 
Depending on the style, steps can cost between $200-$2500 on average. If you need many entry points, then this will multiply.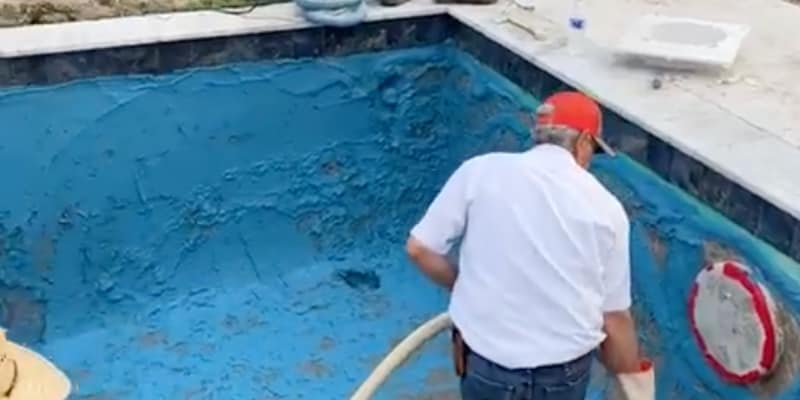 What Type of Inground Pool is Best in Texas?
Three materials are used to build inground pools, each with different pros and cons. These include things such as Texas pool installation costs and customizability. Let's look at each type in a little more detail. 
Fiberglass
Fiberglass pools are one of the faster installation options. Because they come in pre-molded shapes, they are usually not customizable. Most manufacturers have a range of designs with features such as steps, seating, and spas. 
These pools have a high upfront cost but are usually relatively cheap to maintain.
One of the main things to consider with this type of pool is sun exposure. The fiberglass shell has a coating that makes it smooth and water-resistant.
But, over time, the chemicals and sunlight can erode the coating. This leaves it susceptible to damage and disrepair. 
Texas experiences very high temperatures, so fiberglass pools may not last as long. They will likely only have a lifespan of 10-20 years.
Vinyl
Using a vinyl lining for an in-ground pool is the cheapest option for pools. The liners cover an excavated hole lined with sand or other insulating material. They are usually quite flexible with the size and shape they can get made into.
Many of these liners have coatings to prevent sun decay and algae buildup. But, this type of pool lining is still easily damaged by the chemicals used to balance the water.
They can also get ripped or damaged through regular use. For this reason, most people will have to replace their pool liners every ten years.
Concrete / Gunite
Concrete is the most versatile type of pool, as it can be the base for many different finishes. It is also the most customizable form of pool, as they can get poured into specific dimensions.
Popular finishes for concrete swimming pools use tiles or stone. These are the most beautiful types of pools, with many options of colors and textures to choose from. 
These pools, although more expensive, are well worth the investment. They are much more durable than fiberglass or vinyl and will fade less with sun exposure.
They are also more resistant to the chemicals used in pools. So you will save money in the long term on repairs compared to the other two pool types.
How Long Does it Take to Install a Pool in Texas?
As with the average costs, the amount of time to build can vary depending on the type of pool and the features. An estimate for most pools is between 8 and 12 weeks from start to finish. Using a reliable company of Texas pool builders will help you stick to the schedule.
If you are pressed for time, make sure you get a head start on asking for any permits you need. This will need you to have a plan prepared to detail the project. This should include the size, depth, and location. 
Will Pool Installation Add Value to My Home in TX?
Adding an inground pool to your house can add value to your property. Experts suggest that it can add up to around 8% to the property value.
Especially in a state like Texas, with hot summer months, having a pool is essential to beat the heat. Having a pool is a unique selling point of a property, especially a beautifully finished pool. 
Not only that, but it can boost the atmosphere of your outdoor area. It creates a dedicated space for families to come together and enjoy quality time.
The Best of Texas Pool Installation
Building an in-ground swimming pool is a big decision, so you want to ensure you have all the information. Your budget, time scale, and type of pool are all essential considerations. We hope this article has given you a good outline of all the key areas of pool construction.
We are proud to be a family-run business at Venture Pool Company. We have almost 20 years of experience creating swimming pools. We will guide you through the design and building process, including you in every step. 
Get in touch with the Venture Pool Company today to start your dream Texas pool installation.